The Parallel Coordinates Matrix view extends the parallel coordinates idea by providing a view of each pairwise relations between variables. Using our innate pattern-recognition abilities, it enables spotting correlations in a blink. Thanks to its unique density-based approach to avoid overplotting, and the choice between straight and curved geometries, relations emerge immediately.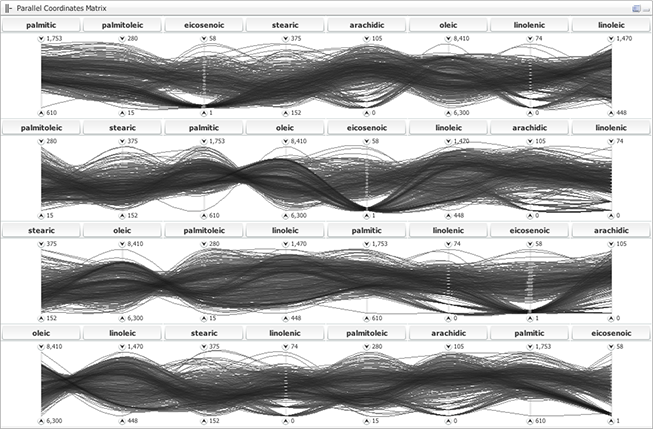 At the bottom of the user interface, you will find the Parallel Coordinates Matrix view that corresponds to the chosen settings in the Configuration and Axes panels. Each item is represented by a polyline or polycurve.
Moving the mouse over a shape will display a pop-up window (also called a tooltip) that shows the values configured in the "Labels" section of the "Configuration" panel.
Selection can be performed by clicking on a shape. Adding to or removing items from the selection can be done by holding the Ctrl key down while clicking on shapes.
Multiple adjoining items can be selected using a rubberband which is activated by dragging the mouse while holding down the Alt key.